Join the official Discord server of Rooted, and obtain the roles.
JOIN THE SERVER

Join the official Rooted Discord server to join the community, interact directly with our team, follow the development progress, and access exclusive channels if you have pledged the game.
Here are the steps to follow:
CHANNELS DEDICATED FOR ALPHA (under NDA)
If you have access to the alpha, here is the list of dedicated channels you will see once you've received the roles.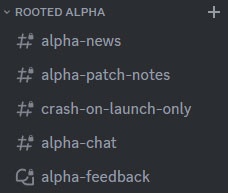 Looking forward to seeing you on the server soon!
Mat
---